Mini Big Bang at Liverpool John Moores University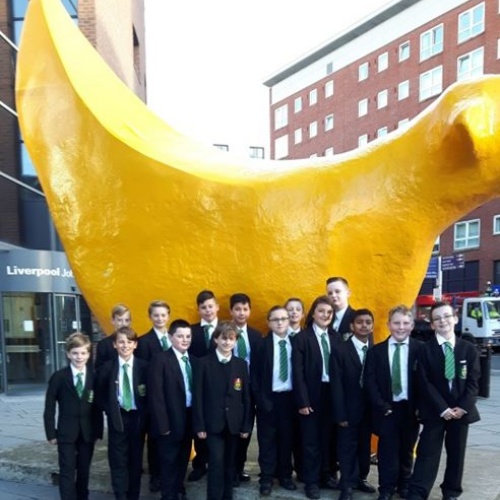 A group of Year 7 pupils have attended a STEAM workshop held at Liverpool John Moores University's, Avril Robarts Building (found just behind the original Superlambanana). A number of interactive science activities were organised to inspire them to consider future career and academic STEAM options.
The first workshop, delivered by the Liverpool Institute for Performing Arts (LIPA), involved using sound-mixing consuls and recording equipment, with the aim to produce a SOUND SCAPE". Mosslands pupils, working with Year 9 students from Broadgreen Comprehensive School, rose to the challenge and produced a sound scape piece based on the poem, "We're going on a bear hunt" which they presented live to the whole room.
The second workshop was "The Clean Water Challenge". The boys were split into groups and given basic apparatus – plastic cups, coffee filter, plastic bottle (with end removed), stones, sand and jute. The challenge was to develop a water filter system that could process dirty water into clean drinking water. The boys worked enthusiastically in their small teams sharing ideas and trying out different filter methods before finally delivering their designs. The idea of the challenge was to highlight how engineering and science might be used to produce clean drinking water anywhere in the world.
The third workshop, called "Staying Alive", was delivered by medical students. The presentation took the pupils through a scenario of dealing with a collapsed patient! The session covered basic life support processes including CPR (Cardio-Pulmonary Resuscitation) and how to measure vital life signs. Pupils got the opportunity to measure peak flow, oxygen blood levels and pulse rate and in this instance, it demonstrated how learning in the classroom can be used in everyday life.
The workshops were generously provided by the Merseyside Network for Collaborative Outreach (MNCO), ably supported by "All About Stem"; so that young people have access to engaging with science in an inspiring and fun way.