The Mosslands Mermaid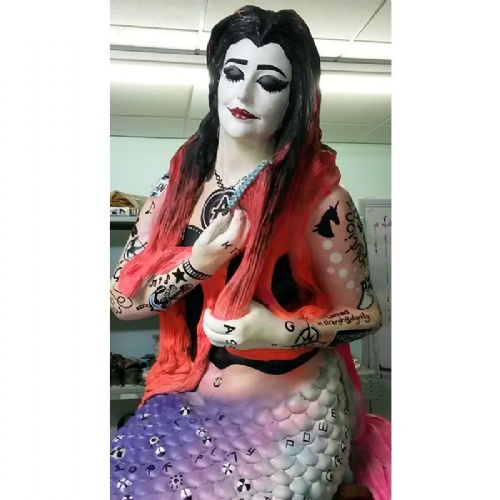 Twenty Year 7 boys, nick-named "The Mosslands Mermen" have spent weeks designing and creating a punk identity for our mermaid, won as part of Wirral Borough Council's competition for schools and community groups-the same kind of idea as Liverpool's Lambanana.
The other winners are "Ebb and Flow", Wirral Hospital Schools, St.George's Primary and St. Mary's. In addition to these five, the artist Barry Cannings-Eaton has also designed one himself. These sculptures make up The Mermaid Trail in the hopes that New Brighton will be visited by more tourists this summer keen to get to know the local myth of the Black Rock Mermaid. A beautifully illustrated map can be obtained from "Literally a Bookshop" in the town.
Mosslands Rock On Mermaid can be found proudly gazing down Seabank Road, by the shops near Magazine Lane. The idea arose from acquainting the boys with strong women- their mothers, sisters, aunties, grandmas and maybe even their future wives. It is a celebration of young people "with attitude" and opinions, with views and beliefs and urges us to arm ourselves with knowledge and stand firm in making this world a better one.

The launch was appropriately the day before the General Election on Wednesday 7th June. Symbolism plays a great part of current tattoo tradition: those on the mermaid are about a changing direction being positive, "I am greater than my highs and lows" and the support of various anxiety disorders and mental health issues. Feminist ideals are relevant to both genders, and challenge stereotype: "She needed a hero, so that is what she became", "Real men dance". There is a great deal to investigate about this sassy lass, so really look closely!
The boys received certificates in The Floral Pavillion from the Mayor after the unveillings. We are particularly grateful to Sebastian Drysdale Year 11 for his self-written, performed and manipulated "Mer-song" reflecting the statue's punk style.