Geography
About the course:
This specification for the discipline of Geography encourages students to gain enjoyment, satisfaction and a sense of achievement as they develop their knowledge and understanding of the subject. This A Level course will enable students to be inspired by their geographical understanding, to engage critically with real world issues and places, and to apply their geographical knowledge, theory and skills to the world around them. Students will grow as independent thinkers and as informed and engaged citizens, who understand the role and importance of geography as one of the key disciplines relevant to understanding the world's changing peoples, places and environments.
What does this qualification cover and how will you be assessed?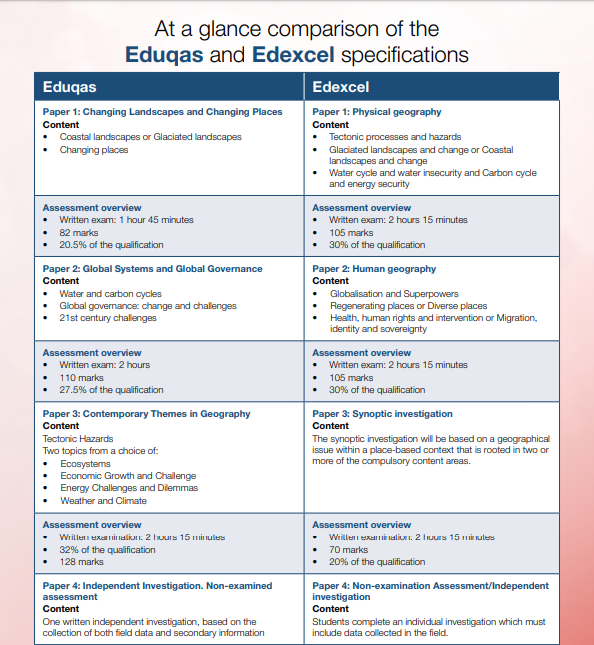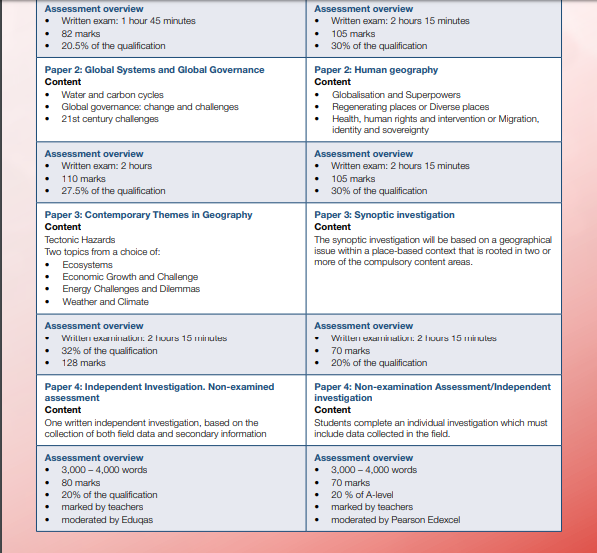 What is expected of you:
At A-level Geography it also crucial to keep up-to-date with topical events and geographical news stories in your spare time. You should be motivated to work independently and it is highly advised that you make sets of keyword and case-study cards as you work your way through the course. These will be vital for exam revision.
What it prepares you for:
Geography will help you develop your communication and teamwork skills. You'll also develop your research and analysis skills including in IT and fieldwork, which means you will be able to collect and look for patterns in data. Employers love the mix of technical and social skills people get from studying geography, which they see as very transferable, i.e. useful for a whole range of jobs.
According to the Royal Geographical Society, Geography graduates have some of the highest rates of graduate employment.
Geography is great for any kind of career that involves the environment, planning, or collecting and interpreting data. Popular careers for people with geography qualifications include: town or transport planning, surveying, conservation, sustainability, waste and water management, environmental planning, tourism, and weather forecasting. The army, police, government, research organisations, law and business world also love the practical research skills that geographers develop. Because geographers learn about human and population development, geography can be useful for jobs in charity and international relations too.
Entry Requirements:
At least a grade 5 for GCSE Geography.
Attainment in Maths and English at GCSE
Qualification details:
Edexcel A Level Geography. The QAN for this qualification is: 601/8417/6
For more information please speak to:
Miss N Jolly – Subject Lead, Room D15