Home Test Kits
Home Test Kits for Students
Up to one in three people who have COVID-19 can spread the virus without knowing. This is because they have no symptoms. To reduce the spread of the virus, we need to identify those individuals. We can do this in Mosslands School by carrying out tests at home twice every week, 3-4 days apart.
The Government has recently announced that all secondary and college aged students will be offered tests to make the return to school safer for everyone. Please follow this link to read through the guidance Government Guidance Home Test Kits
---
Rapid Tests for Parents and Household Bubbles
Regular rapid testing is now available for parents, their households and bubbles. Regular rapid testing is a fast and easy way to find out if you have coronavirus and help protect your loved ones and community. It's free and takes around 30 minutes. Read the guide here Parents of School Aged Children Testing Guide
---
When should my son/ward take the test?
We would like students to take a test every Sunday and every Wednesday. This can be in the morning before school on a Wednesday.
---
How to do a self-test at home
You can watch a set of simple videos following the link here Video Guides
Read the simple step-by-step guide here Step by Step Guide to Home Tests
Follow the instructions here...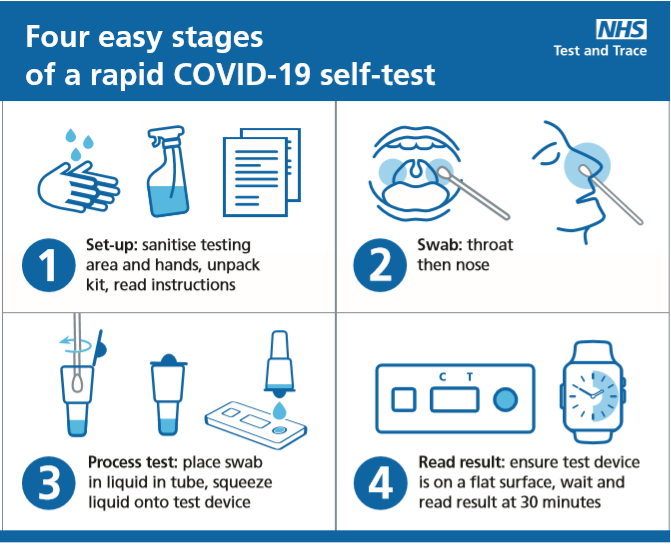 ---
How to Report the Results
Report the test result (if it is positive, negative or void) using this service. You also need to tell the school the test result. You will receive a text or email from NHS Test & Trace confirming that you have reported your test result.
All test results need to be reported to both the school using this link Home Test Kit Students Results and to NHS Test & Trace
Use this video guide if you are unsure how to report to the NHS Report your Result to NHS
Use this paper guide if you require assistance reporting to the NHS Step by Step Guide
---
Frequently Asked Questions
To look through a set of FAQ's regarding home tests please click here FAQ's
---
Privacy Notice
To look at how your data will be used please see the privacy notice here Privacy Notice