Mosslands Turning Japanese.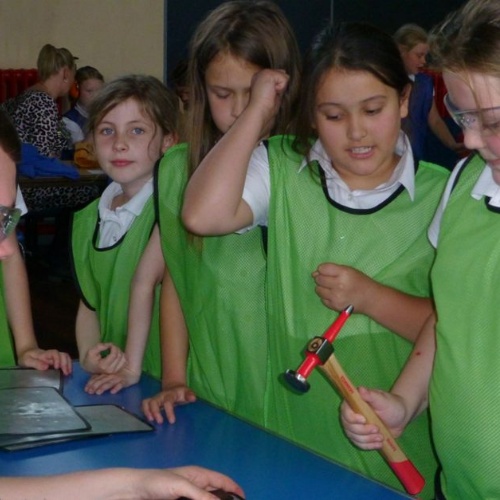 To make a Child happy just give them a hammer!
Since September Mosslands School, working closely with the NAC group has invited many of our local primary schools, New Brighton Primary, Christchurch, Liscard Primary, Holy Spirit, Castleway and Woodlands to take part in a unique and exciting hands on STEM opportunity called "Art of Manufacturing" based on the automotive industry.
At Mosslands they were introduced to the concept of "Continuous Improvement" and although it could be the motto of OFSTED, in this case the idea comes from the Japanese principle of "Kaizen" Our visitors had to set up mini Lego production lines to make model cars and then had hands on use of automotive manufacturing equipment, including hammers, power and torque wrenches. The manual dexterity speed challenges were a great favourite, with the nut and bolt and the beg board challenges being particular favourites of the very competitive staff too!
The serious side of the day meant that the pupils developed their team working skills, learned how to improve efficiency, make improvements and build a quality product. They also learnt how safety is maintained during production processes and saw the range of equipment used to protect the workforce but mostly I think the day will be remembered by them, when they got the chance to bash the dents out of a sheet metal using a hammer!
​
Sayōnara