Institute of Engineering and Technology, Faraday Challenge Day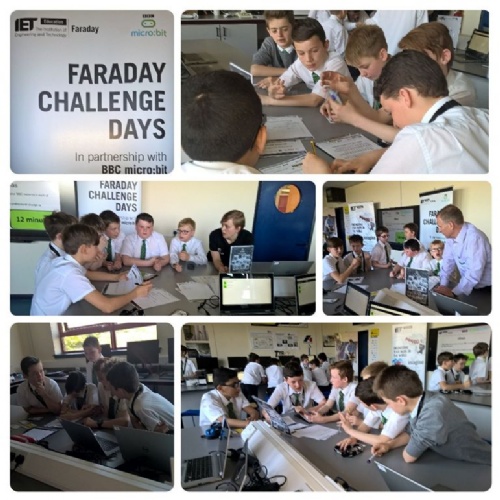 Mosslands held an enormously popular IET Faraday Challenge Days on 12th May in our very own STEAM Lab, with 36 of our best Year 7 students taking the Challenge.
The Six teams designed projects that involved using the BBC Micro:bit, a small micro-computer that fits in the palm of your hand, to fit in a one of the four chosen categories; Health, Education are held at schools.
The teams were responsible for generating and brainstorming ideas, selecting team roles, designing, developing and modifying a prototype that would incorporate the Micro:Bit, budgeting their accounts and giving a "Dragon Den" style presentation, all in the heat of competition!
The Faraday Challenge Days give students the opportunity to research, design, team work and problem solve genuinely tough engineering problems. It allows them to exhibit their creativity and potential to become the entrepreneurs and engineers of tomorrow.
After a close competition the Winners of the watch, money and trophy was team "Micro4" consisting of Joseph Allen, Travis Bell, Aidan Cowley, Joseph Egan, Harry Sheriff and Samuel Verrill. Well done boys!
The highest-scoring teams from across the UK will be invited to showcase their ideas at an IET event later this year – let's hope Micro4 will be there!