STEM Inspiration for all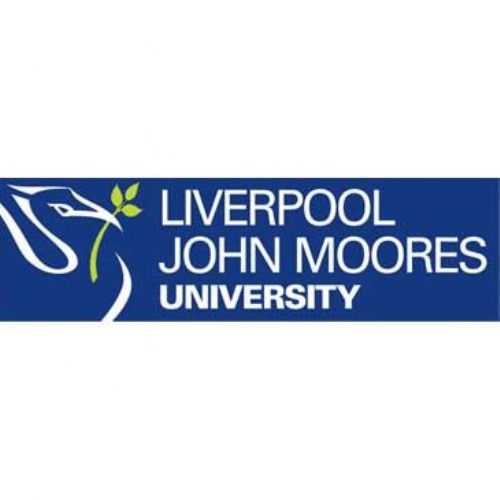 Mosslands, Years 7 and 8, small group provision students had a fascinating, fun and inspiring, "HANDS ON" STEM day at Liverpool John Moores University.
Their challenges included adding "Foley effects" to the poem "We're going on a Bear hunt". Foley effects are sound effects added to the film and audio during post production (after the shooting stops). They include sounds such as footsteps, clothes rustling, crockery clinking, Here one students read the poem "We're going on a Bear hunt" whilst another students sitting at mixing desk added ambient and atmospheric sound to enhance the overall experience.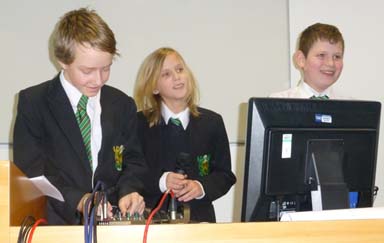 A Forensic Science section included Crime scene evidence recognition, identification of the 3 main types of finger print patterns and the life history of finger prints. Did you know your finger prints are formed nine weeks after fertilization and as part of the soft tissues of the body can still be recognised long after death. Our students interacted brilliantly with the staff from LJMU, with every one thinking they could beat any finger print trap.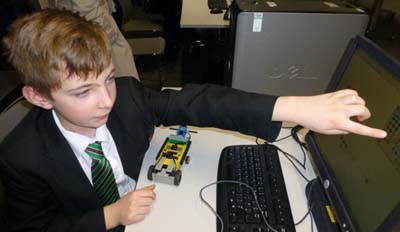 The Engineering and Technology department of LJMU had a cool section too, based on control software engineering. Here our students were guided through the coding stages required to run mini Lego cars, causing them to travel set distances and to reverse when they hit objects. The students working in pairs showed considerable resilience and team working abilities in achieving their goals and soon displayed skills to have their cars stopping on a sixpence, when once the cars had a life of their own.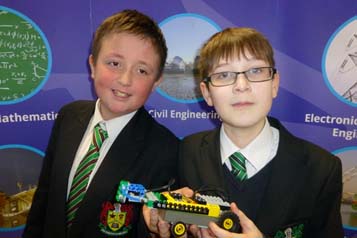 The staff and advocates of LJMU were extremely friendly and it was a real pleasure to have been involved in such a rewarding and inspiring day MNL/JNK/SG/LG
I thought todays STEM trip was…..
…"exceptionally wonderful, my favourite session was the robotics one, as we got to program the robots to move and use touch sensors" James

… "amazing because we got to program little Lego vehicles and we learnt the basics of forensic Science as well, today was inspiring, I really want to do coding when I grow up and LJMU is the place I want to go to! Bradley
… "a really unbelievable experience especially the robots I love programming them and it was fun to see the robots race." Lewis

…"great and I learnt that I had a rare thumb print" Ciaran
… "really epic because it was fun to program the Lego cars" Dylan
… "epic especially when we programmed them Lego androids and also the sound effects we added to the poem "We're going on a Bear hunt" it's something I really enjoyed. When I'm old enough I might go to John Moores and I would definitely go again, it was awesome! Clayton
Mosslands STEAM activities can be follow via twitter @MosslandsSTEAM