Unilever Bright Futures Challenge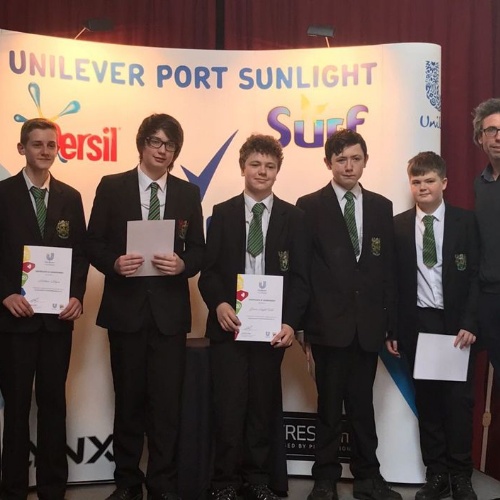 The Unilever Bright Futures STEM Challenge final at Hume Hall, in Port Sunlight
The Unilever Bright Futures STEM Challenge final at Hume Hall, in Port Sunlight, on 23rd March 2017, was the culmination of months of hard work for all who took part; providing every participating student with an excellent opportunity to further develop scientific, technological and mathematical skills to become more competitive in the 21st century workforce.
A team of Jack Boswell 9F1, Daniel Charlton 9G1, Joshua Irvine 9F1, Matthew Noyce 9F2 and James Smyth-Tutil 9F1 were challenged with the task of designing a new and innovative soap product, using the design process to follow a specific brief, develop unique ideas and even create a product. The overall STEM experience resulted in every student developing a set of teamwork, thinking, reasoning, investigative, and creative skills that they can use in all areas of their lives.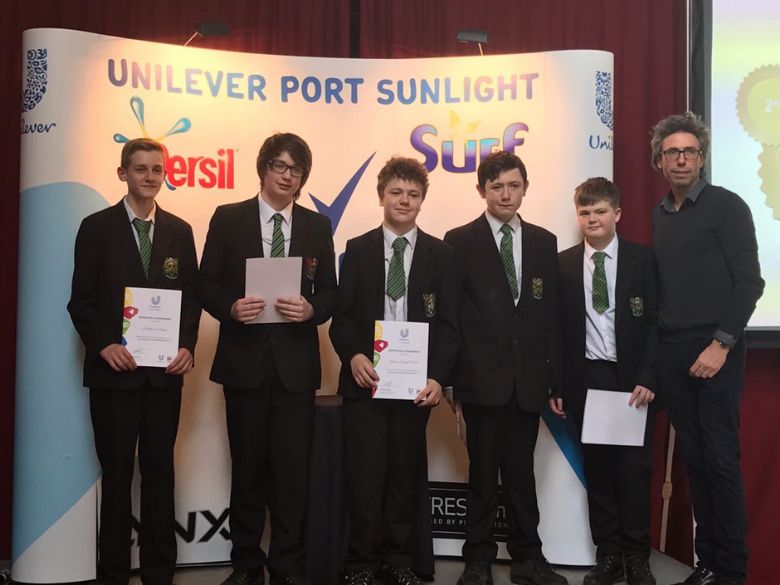 On the day, schools presented their project to judges, who were current employees at Unilever. Schools displayed their work professionally, with impressive artwork, diagrams, props, formulations, concept models and more. A number of different awards were presented for various categories, and the overall winner won the opportunity to have their product actually manufactured by Unilever.