Year 9 Assessments - June 2017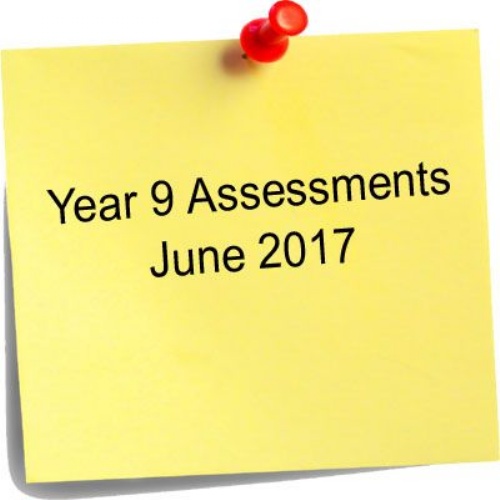 Examinations for Year 9 will take place from 26th until 29th June. These will take place in the Old Sports Hall for the majority of students. Normal lessons will take place when your son is not in an examination. The timetable of examinations for your son is shown below.
It is important that your son attends school during this period as the examinations provide valuable information about your son's progress and the results will contribute to set changes that take place between Year 9 and Year 10.
Students must ensure that they are in full uniform and properly equipped to take the tests and we would appreciate your support in ensuring that boys arrive for the examinations with full equipment including a calculator, protractor and pair of compasses.
In formal examinations, mobile phones and connective devices are not permitted. I would recommend that your son leaves such items at home on these days, or alternatively, he will need to hand them in at the beginning of the exam.
Yours sincerely
Mrs A M Hood
Assistant Head Teacher – Data, Assessment, Recording and Reporting
Year 9 Assessments - June 2017
Morning

Afternoon

Monday 26th June

English Paper 1

9:00 – 10:45

History

11:00 – 12:15

Return to lesson 4

Geography

13:30 – 14:30

Return to lesson 6

Tuesday 27th June

English Paper 2

9:00 – 10:45

Maths Paper 1

11:00 – 12:00

Return to lesson 4

Computer Sci. 13:30 – 14:30

Return to lesson 6

Wednesday 28th June

Maths Paper 2

9:00 – 10:00

French 11.00 – 12.00 German 11.00 – 12.00

Return to lesson 4

Science (Bio, Chem, Phys)

13.30 – 15.00

Thursday 29th June

Maths Paper 3

9:00 – 10:00

Return to normal lessons