Anglo-French exchange
So long les Français …
Last Saturday marked the end of our Anglo-French exchange with Collège Fersen in Antibes and it was with much regret that we waved good-bye to our European counterparts as they boarded their coach to Liverpool Airport, leaving behind fond memories of the Wirral and its inhabitants after their brief but busy three day visit.
On Wednesday we took our visitors to Delamere Forest near Chester, where they followed a 4km orienteering course mapped out by Mr Reed our Head of PE. Each group of French and English pupils had to use their map reading skills, as well as their language skills, to avoid the many obstacles and wrong turns the mighty forest offered. Well done to Joe Ryan's team for finding all the checkpoints in the fastest time!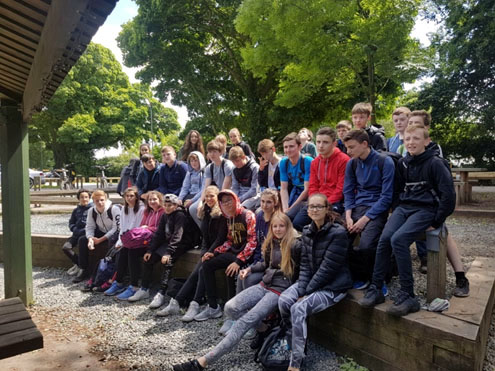 On Thursday the adventure carried on with a bit of history. Our happy driver from Happy Al's Coaches kindly dropped us in Water Street Liverpool, right in front of the Three Graces. Mr Le-Normand took some time, not only to explain the history of the Liverpool harbour and its hidden secrets, but also to talk about the many waves of migration that have taken place in the last two centuries. He also explained why today, Liverpool is such a welcoming and cosmopolitan city. The boys had a bit of time to wander around Liverpool1, while the French girls went on a shopping spree in Primark and Forever 21.
Once we'd digested our 'jambon-fromage butty', we set off to Awesome Walls, the famous church turned rock climbing centre at Liverpool docks. Staff there were both impressed by the excellent behaviour of the group and the ability of some pupils to reach the top of the most difficult walls in record time. It quickly turned into an Anglo-French competition with one of the French girls managing to get to the top blind-folded and with one arm behind her back!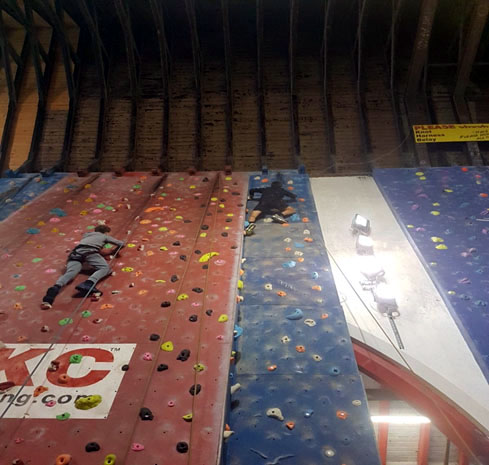 Finally on Friday, we visited the brand new part of the Liverpool FC stadium and after some initial resentment from Evertonians and Man U fans; we all enjoyed the visit and finished it with the LFC Museum.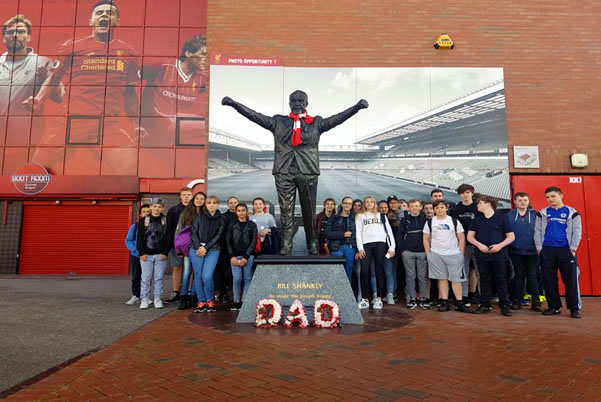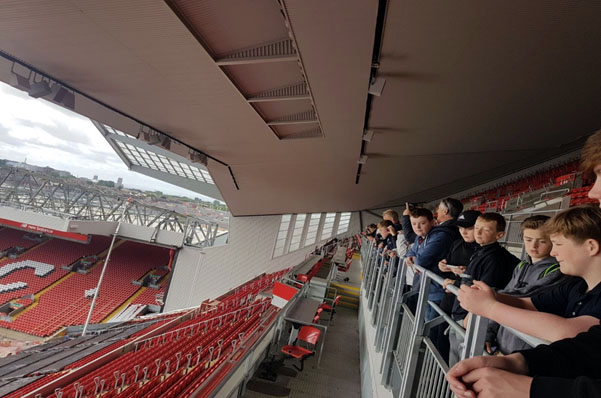 Arriving back at school, we gave our French friends the opportunity to experience their first fish and chip school dinner, before an afternoon cooking session on athletes' nutrition led by Miss Owen. Yet again, pupils gathered together to prepare the best protein flapjacks ever, there wasn't time to judge a winner, as they all disappeared pretty quickly once out of the oven…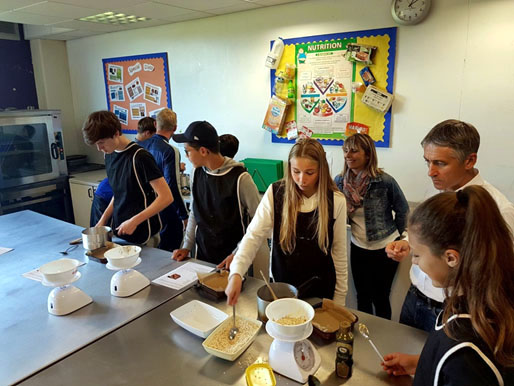 Mr Le-Normand would like to thank the families who hosted our French counterparts and also their sons for their excellent behaviour during the week.
A big thank you also goes to Mr Reed, Miss Jones, Miss Owen, Mr Bain, Mrs Roberts, Mr Wilmin and Mrs Lloyd for all their help.