Brick Heads WIN!  Engineering STEM Challenge.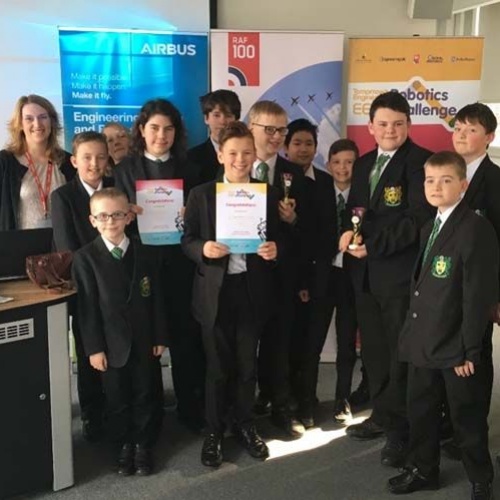 Team Brick Heads get to compete in the Merseyside Regional Final of The Tomorrow's Engineers EEP Robotics Challenge at Chester University
It has been rumoured that AA is a frequent visitor to school and in all honesty, some days, it is hard to get going without their support. Well, that was the case on 28th February when, with a mini bus filled to the gunnels with Member of Mosslands "Brick Head" Mindstorm Lego Robotics Team, the school mini bus failed to compete against the arctic temperatures and suffered a dead battery!
Panic, industrial language, kick at mini bus – thinking hats on!
Well in short, after the timely intervention of the AA (Automobile Association) Team Brick Heads did get to compete in the Merseyside Regional Final of The Tomorrow's Engineers EEP Robotics Challenge at Chester University and in all honesty, the day did get off to a slow start but finished on a much faster one!
The winning team of Tom Drew 7R1, Mason Huthart 9F2, Andrew Lawrence 7R1, Corey McGeagh 7R1, Luke Loke 7R1, William Nghiem7R3, Jacob Prescott 7R1, Ben Price 7R1, Harry Sherriff 9F2, Rowan Smith 7R2, Joel Teasdale 7R2, Caleb Weir 8R1 and Jake Wilson 9R1 built, programmed and controlled LEGO robots for a series of 'aviation missions'. The students also had to research, design and present their own solution to a contemporary engineering problem faced by STEM professionals in the aviation industry.
The Tomorrow's Engineers EEP Robotics Challenge, introduces student teams to real-world engineering, technology, robotics and computing challenges. The challenge aims to help students put their school learning into context and discover exciting new careers.
---
Without having a chance to practice, we went straight into the speed challenge, to find the fastest robot over a 4 metre track; we won with a time of 2.2 seconds.
We struggled a bit with our big presentation and faced some tricky questions from the judges who grilled us about our design and build. Next came the challenge, all 13 of us here we had to communicate ideas from behind screens to each other. It was a bit odd but we got some great feedback at the end. Our best team members were the media team Rowan Smith, Tom Drew and Joel Teasdale who were proper good!
Our last challenge was the coding part of the day, here we had to program our robot to do certain jobs such as collect pieces of leg and return them to a cargo area. This was the hardest challenge but we did our best. Jacob Year 7
When it got to the awards ceremony, the feeling of winning the whole thing and going through to the final (National Finals at the NEC Birmingham) made me feel ecstatic. Everyone should try to get involved in these types of opportunities. If you don't try it, you may regret it in the future and it gives you more to speak about in job interviews. It was extremely enjoyable event which everyone should try.
Tom Year 7
On this trip, I learnt a lot about team work, how to speak in front of people. As well as this, I learnt how to build more with LEGO. We had to be organised and use our own initiative to solve problems. In addition, we improved our resilience (core value at Mosslands), as we never gave up even it was difficult.

Ben Year 7
The STE@M trip was amazing. It was so much fun; there were lots of challenges that we had to prepare for and one mystery challenge! The first Challenge was the Speed Challenge. Well as the name suggested it was a timed race and guess what, we WON!
Jacob Year 7