STEM, The Physics of Star Wars - University of Liverpool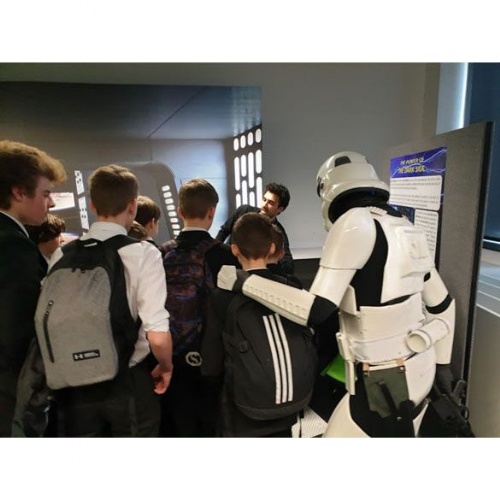 STEM, The Physics of Star Wars
University of Liverpool
Not so long ago…in a university not so far away…51 year nine pupils from Mosslands ventured to the University of Liverpool on an mission to prove what was fact and what was fiction at a STEM, Star Wars Physics Day. Could hyper speed really be possible? Can we really control the force? These are just some of the questions that were set out to be answered over the course of a fantastic day.
On the 20th November, the University of Liverpool opened its doors to year nine students from Liverpool City Region schools to test whether the science in Star Wars was fact or fiction! The day started with a free goody bag (always a good way to start to the day) filled with Star Wars merchandise and a programme of activities for the day. After that, it was on to a talk by Head of the Physics department at the university, Prof Carsten Welsch. From the possibility of using the Force, to Whether Han Solo and Chewbacca could have really used Hyperspace to explore the galaxy were put to the audience and got the thoughts flowing amongst even those who knew very little about Star Wars, unbelievable as it may seem. Then an appearance from Darth Vader himself and an escort of Storm Troopers got us off to an awesome start.

The students split off into their groups and set off to carry out various experiments and tasks that would show where the science in Star Wars could be applied to the real world or if it was even a reality at all. Some students started at The Darkside. Using a Van de Graaff they were able to see what it feels like to be Emperor Palpatine and have electricity flowing through them. Others started at accelerator training. Here they got an insight into how photon beams are being used to target cancer cells in medical treatments and not just negatively by the Death Star.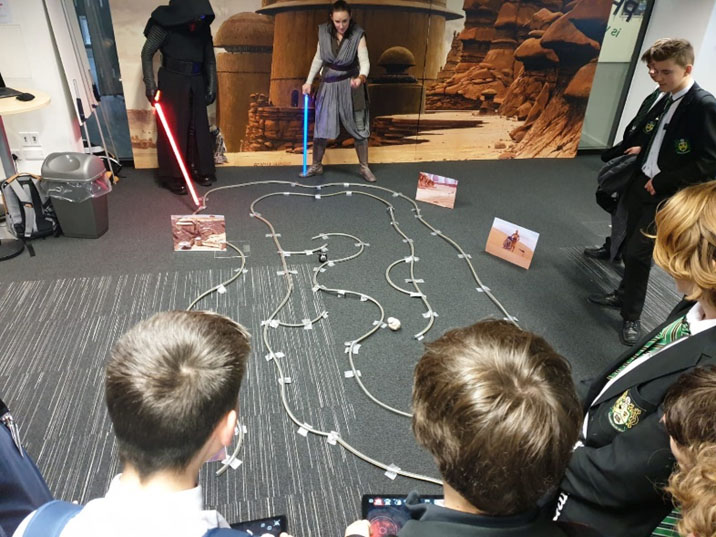 Liverpool TV even joined the expedition and they eventually cornered some Mosslands students and forced interviews from them. https://www.youtube.com/watch?v=Z8CoXfnHp98
As the groups moved round the room they came across none other than R2D2 who was roaming round the stations all day. The friendly droid was not shy and came over to say hello to some of the Mosslands boys who welcomed him with a smile. More time spent bending lasers and finding the recipe for the perfect wave and then it was off to Tatoonie and the Mos Eisley Cantina for lunch.

After lunch it was more galaxy hopping. First stop…Hoth! with the science behind speeders and ice being explained, followed by everyone's favourite and attention grabbing freezing gas - liquid nitrogen. After Hoth it was off to Endor, were students got propelled into the night sky to view the stars and learned how reactor coils worked and how they could be used in every day medicine and life. After flying back to where we stated the morning sessions, there was a particular highlight of the day to come. A Mosslands student (Corey) wins the Space Craft Building Competition! A proud moment for him, his teachers and the school. Next thing we knew and it was back to reality and we were on our way back to school.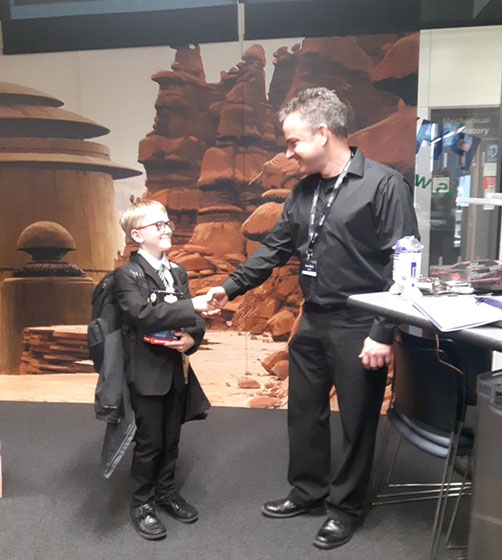 All students that were at the Star Wars Physics Day were a credit to the school and all interacted with the day is a positive manner. We would like to thank Prof Carsten Welsch and his team at the University of Liverpool Physics Department, The Cockcroft Institute, STFC, OMA, AVA. Liv.Dat, UK Research & Innovation and University of Liverpool – Quasar Group for inviting our Year 9 Mosslands boys to your event and for putting on such a great day.
" Your focus determines your reality." – Qui-Gon Jinn.