The Mosslands School, shortlisted for prestigious National Education Award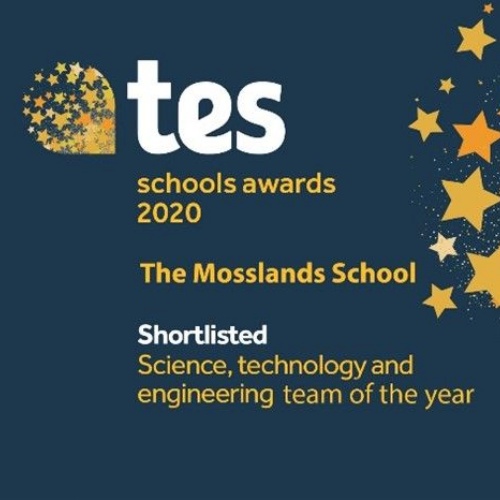 In a year of uncertainty, online classrooms and pupil bubbles, The Mosslands School has continued to innovate and lead the way with its STE@M (Science, Technology, Engineering, Art & Maths) provision which has seen the school recognised nationally for its outstanding commitment and achievement in this area with a shortlisting for the Tes Science, Technology and Engineering Team of the Year, School Awards 2020.
Tes editor Ann Mroz said: "It is always a highlight of the education calendar to see the best ideas and people lauded at the Tes Schools Awards. But this year, it felt more important than ever to run an event that showcased and celebrated the hard work that teachers and school staff do for children and their local community every single day. This has been one of the most difficult years in education, but – as ever – the staff of Mosslands continue to rise to the challenge"
"We had a record number of entries this year and the standard was very high, so all those shortlisted should be very proud: it's an extraordinary achievement to be on this shortlist."
Headteacher Mr Adrian Whiteley said: "STE@M is an integral part of our identity, so we are delighted to be shortlisted for the award and look forward to this year's virtual ceremony.
It came as a surprise as this is our second shortlisting in this category in recent years, a great honour to share as a school."
He further stated, "Delighted as we are with the staff recognition by Tes, the celebration would not be possible without the energetic endeavours of our students, which in an ever increasing STEM dependent world equips them to enter the Wirral and Liverpool City Region STEM job market.
Amongst the hundreds of entries nationwide it is clear to see why Mosslands have made the impressive shortlist.
The Mosslands school prides itself on providing all students with a host of activities to develop their STEAM literacy scientific and understanding of the world around them. Every student will participate in dedicated STEAM events during their time at Mosslands including, workshops, project based learning, visits, seminars and competitions.
The schools progress towards becoming a local STEM Community Hub, has seen collaborations with local organisations and multiple primary schools extending its reach to a further 500 local children and with an innovative whole school STE@M week it continues to exhibit the core values of The Mosslands School of Care, Challenge and Commitment.