Recommencement of Registration with Form Tutors
13 May 2021
Dear Parent/Carer,
RE: Recommencement of Registration with Form Tutors
I am writing to inform you that from the w/c 14th June 2021 I will be expecting all students in year 12, or following their first year of year 12 courses, to attend registration each day with their form tutor.
As you will be aware, when the students returned in September 2020, due to the restrictions I had to limit the amount of time Sixth Form students could be on-site. This was to protect the safety of the staff and the students. As restrictions are beginning to lessen I feel that the time is now right to reinstate these sessions.
One of the things that I am extremely proud of is the pastoral care afforded to the students during their time in Sixth Form, and it has been disappointing to their form tutors and myself that we have not had that valuable time to support the students effectively.
I have also chosen this time as it will be after the students have sat their mock exams, and form tutors will be able to discuss grades achieved and possible options for year 13 (as outlined in my previous letter dated 4th May). In addition, usually at this time of year we begin work with the students on UCAS applications for university and/or preparing CVs for employment. Form period time will assist in this process.
Form Tutor sessions are held from 12.55pm – 1.25pm in the following rooms:
L6F - Mrs Hardie – Room AX1
L6G – Miss Southwood – Room C22
L6R – Mr McKune – Room C05*
Please note: Students currently in U6R will be expected to join L6R
I will expect all students to attend their registration session and failure to do so will result in a truancy call and/or letter being sent home. This will also prepare them for their time in Year 13/14 when again Form Tutor time will be a mandatory part of being a Sixth Form student at The Mosslands School.
If you require any further information, please do not hesitate to contact me at school.
Best wishes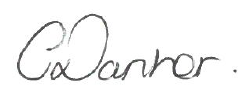 Mrs C Danher
Assistant Headteacher