Faraday House's '7 in 7 Challenge' for MNDA
Faraday House's '7 in 7 Challenge' for MNDA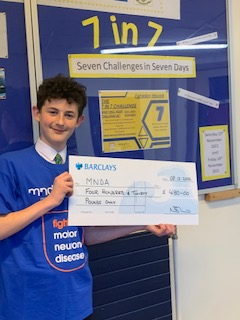 Staff and pupils from Faraday House have completed their own '7 in 7' challenge.
The challenges included Mr Shaw running 7km every day for 7 days, Miss Farnell reading 7 chapters a day as well as pupils doing challenges which included doing 10,000 steps, walking the dog every day or drawing a piece of Art.
As a result, we were able to raise £430 for Motor Neurone Disease Association. This was a fantastic achievement, and we would like to thank all those that participated or contributed.