Business Studies
About the course:
This qualification is for learners who are interested in learning about the business sector alongside other fields of study, with a view to progressing to a wide range of higher education courses, not necessarily in business-related subjects. It is designed to be taken as part of a programme of study that includes other appropriate BTEC Nationals, CTECs or A Levels.
What does this qualification cover?
The content is appropriate and consistent with current practice for learners planning to enter employment directly in the business sector.
The programme covers the following content areas:
• business environments
• finance
• marketing.
The optional units have been designed to support choices in progression to business courses in higher education and to link with relevant occupational areas:
• human resources
• accounting
• law
How will it be assessed:
The units are graded Pass, Merit and Distinction.
The overall qualification is graded Pass, Merit, Distinction, Distinction*.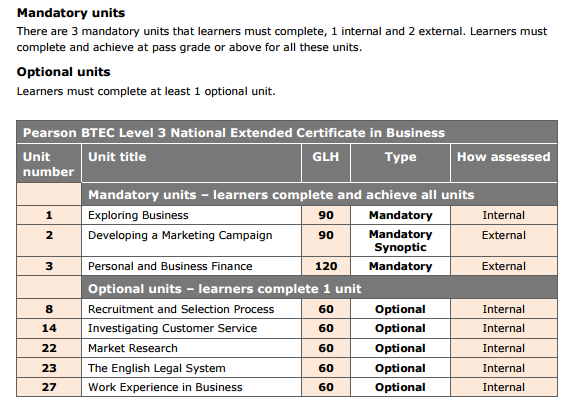 What is expected of you:
BTEC Nationals are demanding. You will have to choose and complete a range of units, be organised in order to meet deadlines, be prepared to do a large amount of independent research, take some external assessments, and keep a portfolio of your assignments.
What it prepares you for:
BTEC National qualifications provide a broad introduction that gives learners transferable knowledge and skills. These qualifications are for post-16 learners who want to continue their education through applied learning. The qualifications prepare learners for a range of higher education courses and job roles related to a particular sector. They provide progression either by meeting entry requirements in their own right or by being accepted alongside other qualifications at the same level and adding value to them.
The qualification carries UCAS points and is recognised by higher education providers as contributing to meeting admission requirements for many courses if taken alongside other qualifications as part of a two-year programme of learning.
All BTEC Nationals provide transferable knowledge and skills that prepare learners for progression to university. The transferable skills that universities value include:
• the ability to learn independently
• the ability to research actively and methodically
• to be able to give presentations and be active group members.
Entry Requirements:
Learners are most likely to succeed if they have:
• 5 GCSEs at grades 4 or above and/or
• BTEC qualification(s) at Level 2
• Achievement in English and Mathematics at GCSE.
Qualification details:
Pearson BTEC Level 3 National Extended Certificate in Business (360 GLH) 601/7159/5
For more information:
Mrs C. Danher –Assistant Headteacher, Sixth Form
Mr M. Inman – Subject Lead for ICT/Business – Room A28