Digital Media
About the course:
This qualification is designed for learners 16 years old or over who want to study digital media concept and product development. The qualification is designed to be taken as part of a study programme alongside other vocational qualifications or A Levels, such as in Business, English, Art and Design, or Performing Arts.
What does this qualification cover?
Learners will take between five and seven units, three mandatory and between two and four optional units (depending on the size of units you choose). Learners will study the following mandatory units:
• Media products and audiences
• Pre-production and planning
• Create a media product
These units will give learners an understanding of how different media institutions operate to create products that appeal to specific target audiences. They'll gain knowledge and understanding of the pre-production, planning and production processes and go on to create a media product. Through this, learners will also develop transferable skills such as planning, communication, adaptability and leadership. The optional units provide learners with the opportunity to broaden their knowledge, understanding and skills in key areas such as, Social media and globalisation, Journalism and the news industry or Advertising media.
How will it be assessed:
The units are graded Pass, Merit and Distinction.
The overall qualification is graded Pass, Merit, Distinction, Distinction*.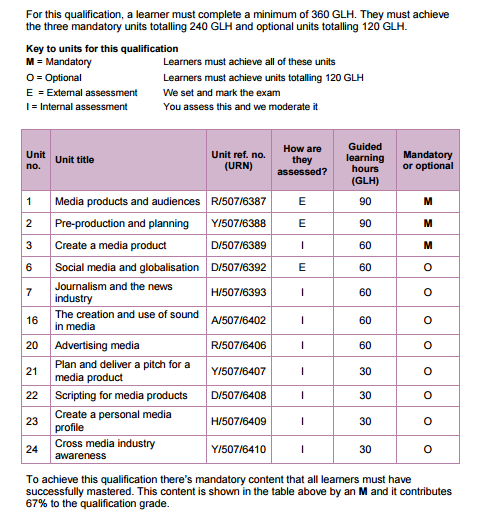 What is expected of you:
You will need to be hardworking, well organised and self-motivated in order to be successful. You will also need a good level of ICT, and communication skills. The course also requires you to be an independent learner and you will need to ensure you are responsible for your own learning. This means you will need to be fully aware of what is required from all work set in terms of outcomes. You will be given regular feedback which will allow you to monitor your own progress.
What it prepares you for:
This qualification will provide learners with the opportunity through applied learning to develop the core specialist knowledge, skills and understanding required in the digital media sector.
The qualification carries UCAS points and is recognised by higher education providers as contributing to meeting admission requirements for many courses if taken alongside other qualifications as part of a two-year programme of learning.
It will support entry to many higher education courses, depending on the other qualifications learners have taken. Learners should always check the entry requirements for degree programmes at specific higher education providers.
The qualification can also support progression to employment directly, or via an apprenticeship.
Entry Requirements:
Learners are most likely to succeed if they have:
• 5 GCSEs at grades 4 or above and/or
• BTEC/CTEC qualification(s) at Level 2
• Achievement in English and Mathematics through GCSE or Functional Skills.
Qualification details:
OCR Level 3 Cambridge Technical Extended Certificate in Digital Media - 601/7259/9
For more information:
Mr M. Inman – Subject Lead for ICT/Business – Room A28
Mr R. Smith - Teacher of Digital Media – Room A27