Extra Curricular Timetables
The Mosslands Super-curriculum:
A super-curriculum is a term used to describe an educational programme that goes beyond the traditional curriculum, by providing students with additional learning opportunities and experiences that are not typically included in traditional school curriculums. This can include things like extracurricular activities, internships, and community service projects, as well as exposure to real-world problems and issues.
The importance of a super-curriculum for pupils' personal development is that it can help students develop a wide range of skills, including critical thinking, problem-solving, and communication skills. It can also help students become more engaged and motivated learners, as well as prepare them for the real world and the workforce. Additionally, it can expose students to diverse perspectives and cultures, and promote their personal growth and development.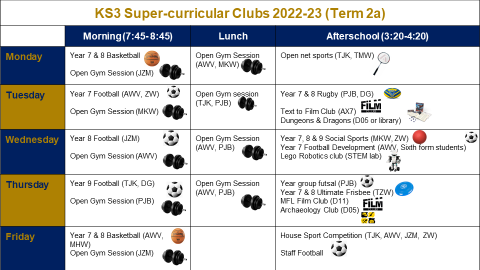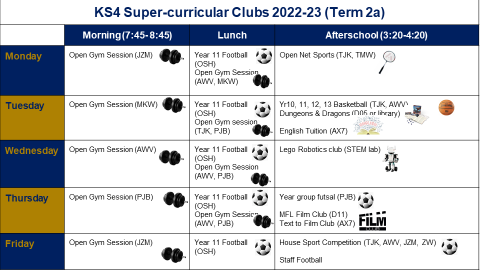 ---
Exam-Readiness:
Exam-readiness sessions are designed to help students prepare for upcoming exams by providing them with the necessary knowledge, skills, and strategies to perform well on the exam. These sessions can be in the form of review sessions, study groups, or practice exams.
The importance of exam-readiness sessions is that they can help students feel more prepared and confident when taking the exam. By reviewing key concepts, practising test-taking strategies, and getting feedback on their performance, students can better understand the material and feel more confident in their abilities. Additionally, these sessions can help students identify areas where they need to focus more attention and improve their study habits.
In addition to the academic benefits, exam-readiness sessions can also have a positive impact on student's mental health, stress levels and time management. By providing students with a structured approach to studying and preparing for exams, students can feel more in control of their studying and less stressed about the upcoming exam. These are an important tool for helping students fulfil their academic potential and achieve successful outcomes.
Year 11 - Exam Readiness Sessions
Day
Week
Subject
Teacher
Venue
Time
Monday
A & B
Maths
Mrs Chapman
A23
3.30-4.20pm
Monday
A & B
Maths
Mr Walsh
A17
3.30-4.20pm
Monday
A & B
Maths
Mrs Anders
A25
3.30-4.20pm
Monday
A & B
Maths
Mr Wilson
A15
3.30-4.20pm
Monday
A & B
Maths
Mr Roche
A14
3.30-4.20pm
Monday
A & B
Maths
Mr Baas
A13
3.30-4.20pm
Monday
A & B
Maths
Miss Jones
A18
3.30-4.20pm
Tuesday
A & B
PE Coursework
Mr Kershaw
605
8.00-8.40am
Tuesday
A & B
Art & Design
Miss Robbins
C25
3.20-4.20pm
Tuesday
A & B
Art & Design
Miss Connor
C23
3.20-4.20pm
Tuesday
A & B
Art & Design
Ms Frost
C24
3.20-4.20pm
Tuesday
A & B
Drama
Mrs Brett
607/605
3.30-4.20pm
Tuesday
A & B
Spanish
Miss Liddle/Miss Owens
D01
3.30-4.20pm
Tuesday
A & B
Construction
Mr Bradshaw
B04
3.20-4.00pm
Tuesday
A & B
GCSE Design & Technology
Mr Jones/Miss Padmore
B05
3.20-4.20pm
Tuesday
B
History
Mr White/Mr Cauldwell
D03
3.30-4.20pm
Wednesday
A & B
Drama
Mrs Brett
607/605
3.30-4.20pm
Wednesday
A & B
Hospitality & Catering
Mrs Lubbe
B05
3.20-4.00pm
Wednesday
A & B
GCSE Design & Technology
Mr Jones/Miss Padmore
B05
3.20-4.20pm
Wednesday
A
History
Mr Adair/Mr Cauldwell
D05
3.30-4.20pm
Wednesday
A & B
English
Miss Kirkpatrick
AX6
3.20-4.20pm
Wednesday
A
English
Miss Adley
AX0
3.20-4.20pm
Wednesday
A
English
Mr Passingham
AX2
3.20-4.20pm
Wednesday
A & B
English
Mrs Hardie
AX1
3.20-4.20pm
Wednesday
A
English
Mr Gouldson
AX7
3.20-4.20pm
Wednesday
A
English
Mr Welch
AX3
3.20-4.20pm
Wednesday
A
English
Miss Farnell
AX5
3.20-4.20pm
Wednesday
A
English
Mrs Parkins
A05
3.20-4.20pm
Wednesday
A & B
Business Studies
Miss Haddad
A27
3.20-4.20pm
Wednesday
A & B
Biology
Miss Beddall
C12
3.20-4.15pm
Wednesday
A & B
Chemistry
Miss McEvoy/Mr Farrell/Mr Wood
C17
3.20-4.15pm
Wednesday
A & B
French
Miss Liddle
D02
3.30-4.20pm
Thursday
A & B
PE Coursework
Mr Kershaw
605
8.00-8.40am
Thursday
A & B
Geography
Miss Jones
D14
3.30-4.20pm
Thursday
A & B
Geography
Miss Stewart
D22
3.30-4.20pm
Thursday
A & B
Geography
Mr Davies
D15
3.30-4.20pm
Thursday
A & B
Geography
Mr Lightwing
D21
3.30-4.20pm
Thursday
A & B
GCSE Design & Technology
Mr Jones/Miss Padmore
B05
3.20-4.20pm
Thursday
A & B
Biology/Chemistry/Physics
Mrs Weston
C15
3.20-4.15pm
Thursday
A & B
Physics
Miss Carty
C06
3.20-4.15pm
Thursday
A & B
Chemistry
Miss Cowen
C03
3.20-4.15pm
Thursday
A & B
Physics/Biology
Miss Caetano
C01
3.20-4.15pm
Friday
A & B
Biology
Mrs Little
D29
3.20-4.15pm