Home

Latest News
---
Sixth Form Open Evening - Book Now!

We would love to invite all of our Year 10 and 11 students and families to attend our Sixth Form Open Evening. This is your best chance to meet our teachers and find out how they can set up students to follow their dreams and succeed in the future.

Date: Thursday 7th December 2023
Time: 6.00 - 8.00 PM

Book here: Mosslands Sixth Form Open Evening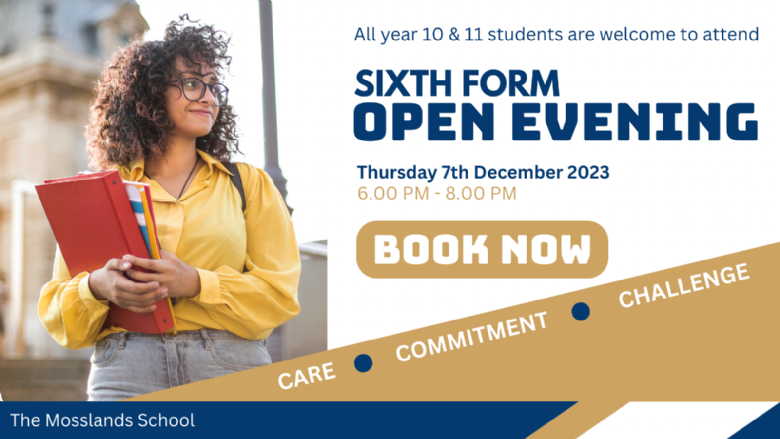 ---
Attendance at Mosslands

We wish to inform you of significant changes to our use of the automated Truancy Call System. As of Monday 10th July, this call will be activated at 9.30 am and will be informed by student marks in morning registration and any late marks from the main office.

Students should be on the school site at 8.40 am and in their form room for registration by 8.45 am. Students who arrive between 8.45 am and 9.00 am should sign in at the main office and go straight to their form room. Students arriving after 9.00 am must sign in at the main office and go straight to their first lesson. Failure to follow this procedure will mean that the student is not registered, and a truancy call will be sent.
These changes were made to enhance our safeguarding procedures, and I trust that as parents/carers you will support the school and discuss their importance with your son.
---
Join Us
Are you currently in Year 4 or Year 5?
Are you interested in becoming a future student at The Mosslands School?
Find out more about our school below or click Join Us
School Prospectus
Download a School Prospectus here School Prospectus
Take a Tour
Take a virtual tour of our school to discover the range of subjects and fantastic opportunities we offer all our students.

Click here to Take a Tour in a new tab
If you are viewing the tour on a mobile device you can simply move the image from left to right to access all areas of the tour.
---
Mosslands Twitter
Keep up to date by following us on The Mosslands School Twitter Account
---
If you discover some harmful content online
use this button to submit a report.