Languages
Languages at Mosslands
"If you talk to a man in a language he understands, that goes to his head. If you talk to him in his own language, that goes to his heart", Nelson Mandela, ex-president of South Africa.
"Students at Mosslands learn more than just how to speak, hear, read and write with confidence in another language. They also develop the skills to become excellent communicators to allow them to compete in an ever-competitive global job market. They also learn how to be tolerant and respectful of other cultures and how to open their minds to the wider world around them", Mr Martin Wilmin, Lead Teacher of French and German.
About us:
The three full-time teachers of Modern Languages bring with them an array of experience, skills, bilingualism and subject specialisms which are used to enhance teaching and learning in the classroom. We are a close-knit team who have worked together at Mosslands for many years and who still have the desire and enthusiasm to embrace new changes to an ever-changing curriculum to help ensure the best outcomes for our students. As far as possible, we want students to experience authentic French and German, rather than it being just another lesson on their timetable.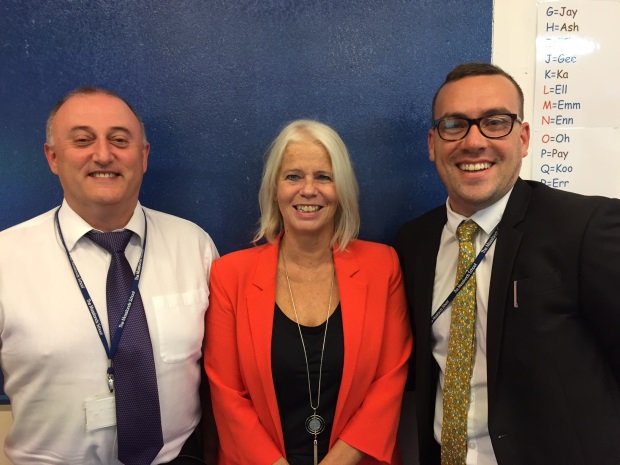 Between us, we can offer both French and German right up to A-Level, and we have all had recent experience of teaching in a number of our Primary feeder schools, making student transition from Year 6 to Year 7 much easier. We have two experienced colleagues who teach French exclusively to some of our feeders. We now also employ two teachers of Mandarin on a part-time basis to deliver our latest addition to the department's list of languages.
What we offer – new provision for September 2016, 3 languages – French, German and Mandarin.
Year 7
All students study French as their main foreign language, but during the year the majority, depending on their academic pathway, will also have a taster in both German and Mandarin.
Year 8
All students continue to study French as their main foreign language, but during the year the majority, depending on their academic pathway, will also have a taster in both German and Mandarin. This will give them some insight into our alternative languages prior to the options process which takes place in the second half of the year. Students will be guided as to their most appropriate language choice for Year 9.
Year 9
Students embark on their GCSE courses. Students selecting a language option will have chosen either French, German or Mandarin (two of the three might also be possible) and will complete their GCSE in three years, with final examinations exclusively in the summer of Year 11.
Languages Mission Statement
Teaching and Learning:
A collaborative approach to teaching and learning is embedded within daily practice and planning. The department endeavours to make learning languages fun, authentic and meaningful, providing pupils with many opportunities for collaboration and independent work in each lesson. We are committed to providing effective verbal and written feedback which pupils are expected to respond to.
Use of Target Language:
With skilled linguists in the department, we endeavour to challenge our students by using a significant level of target language where appropriate and we encourage pupils to use the target language with each other in pair and group work. Both elements of using the target language help ensure that students are hearing authentic language each time they are in the MFL classroom.
Developing pupils' creativity:
We believe that becoming confident with a language is a springboard to a creative classroom. We encourage students to take part in paired or small-group tasks to produce spoken pieces in the target language. They are encouraged to work independently, in class as well as at home, to produce pieces of creative writing.
Reflective learners:
Within the MFL classroom, we consistently emphasise that it is alright to make mistakes. We believe students learn more effectively once they can work out how to move on from their own errors. This open environment allows students to grow in confidence and not feel intimidated in speaking out in front of the class. We also provide learners with opportunities to practise writing skills on mini whiteboards allowing for mistakes to be easily spotted and corrected.
Broaden their cultural references:
Providing opportunities to promote cultural understanding is a vital element of language learning. We are therefore committed to ensuring that the MFL curriculum contains many elements of cultural reference to French- and German-speaking countries and their communities. We also offer students the opportunity to take part in visits abroad during their time at Mosslands. In the last academic year 2015/16, we ran Erasmus trips to France and Germany as well as a sports trip to our French exchange school in Antibes in the South of France. In the year ahead we will be running further Erasmus trips to Portugal and Poland. Further regular visits to our countries of study are also expected in the near future.