Mental Health and Well-being
Supporting Mental Health and Well-being
To support families during the pandemic, we have created a new pastoral help page with useful links and advice about well-being and mental health.
Please visit our help page be clicking here: Mental Health and Well-being
If you or a member of your family are struggling please ring a member of the school safeguarding team below 0151 638 8131
Safeguarding Lead: Mr Gareth Evans (Deputy Headteacher)
Deputy Safeguarding Lead: Mrs Sam Denheyer (Pupil Services)
Mr Ray Sinclair (Assistant Headteacher)
Mrs Cheryl Danher (Assistant Headteacher Sixth Form)
Mrs Nicola Treanor (SENCO)
Please see our Well Being booklet.
It is for pupils and their parents/carers to look at and use as discussion points for wellbeing.
---
Wirral Council Helpline
In response to the current health crisis, a dedicated free phone helpline has been set up by Wirral Council to support young people who may be struggling.
The helpline, which will be staffed by professionals from across the council's children's services who are experienced in dealing with young people, will be open from 9am-5pm, Monday to Friday. All calls made to the number will be free.
Young people across the borough are being encouraged to call the number if they are feeling unsafe for any reason or have any worries at all. All calls will be treated as confidential with staff providing support in whatever way they can, to show Wirral's young people they don't have to struggle on their own.
Urgent Mental and Emotional Health Support Line
Cheshire and Wirral Partnerships NHS Foundation Trust (CWP) has launched a new 24 hour mental health helpline which can be accessed by all Wirral residents (of all ages including children and young people) who need urgent support. If you need urgent support for your mental health, please call their mental health helpline on the new free phone number 0800 145 6485 and their dedicated local staff will support you to access the help you need.
For more information, visit their website: www.cwp.nhs.uk/crisis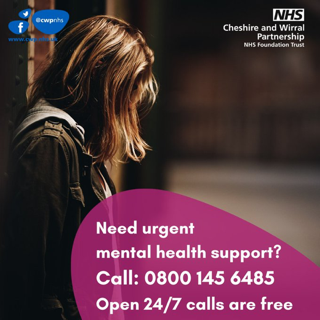 ---
Wirral Mind
Chat Health Wirral is a confidential advice and support page for 11-19 year old students.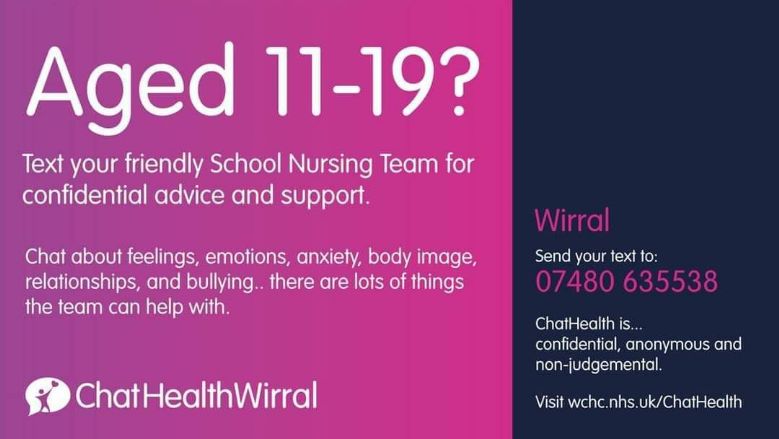 ---
Conversastions About Mental Health
You can download a poster at the bottom of this webpage which you can use as a parent/carer to support you having a conversation about your child's mental health and well-being.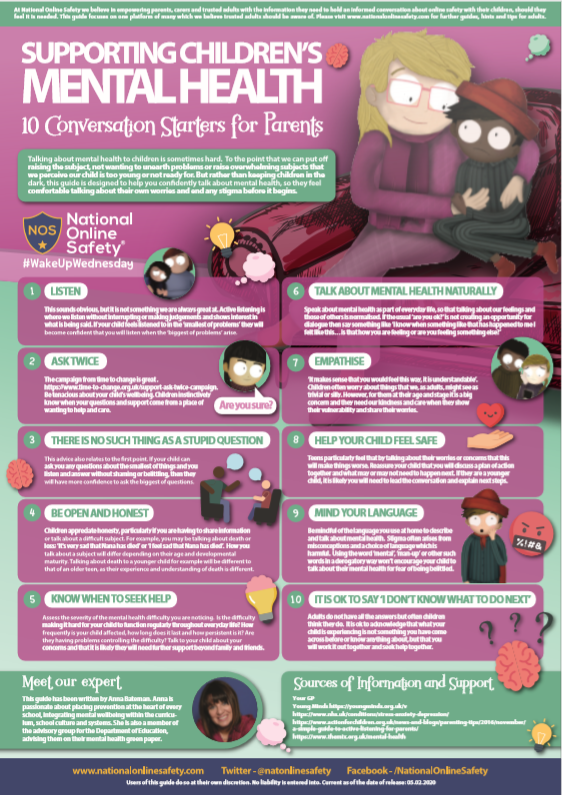 ---
Wirral InfoBank
Wirral InfoBank is a Directory of local care and support services, community resources, activities and information. Visit us now and see what you can find!
---
Please look under the sections below for additional support and guidance...
---
Bereavement

Mental Health
Anxiety
Domestic Abuse
Useful Links
Emergency Food