Use Reading Cloud and Ebooks
Those students that are absent from school or self-isolating will still be expected to continue to read as part of their commitment to Accelerated Reader. To ensure you still have access to a wide range of books, we have subscriptions to Reading Cloud and Sora Ebooks to help you.
Here's how you can access Reading Cloud:
Reading Cloud is our schools online Library Catalogue; you can find every book that we have in the school library using this platform. Each student has his own online presence on Reading Cloud that allows him to search our library books, reserve and review books and interact with others.
You can access reading cloud using this link https://www.readingcloud.net/ and through the App. All students and parents/carers can download the app to their phone for free by searching for iMLS student in your app store.
You will need a pin to login to both the webpage and the app. If you haven't got a pin please email the Librarian Mrs Barton at bartons@mosslands.wirral.sch.uk.
Here's a few things that you can do on the Reading Cloud homepage: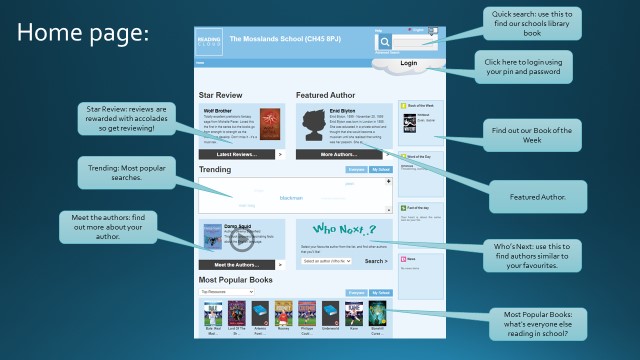 When you login to Reading Cloud using your pin and password you will find this page: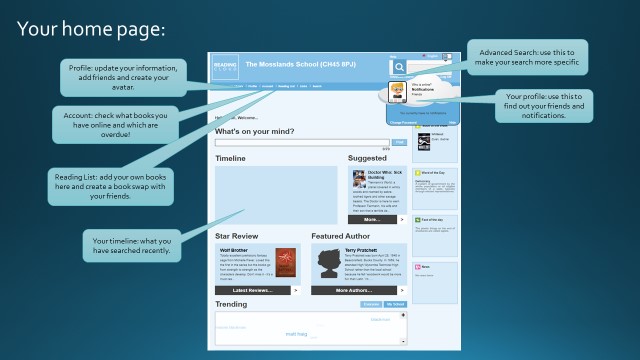 From this page you can also reserve a book. Reserving a book means to order a book we have in our school library so that it can come straight from the shelf, or a previous borrower, to you. This is handy if you're finding it tricky to get to the library to get a book at the moment.
First of all, search for the book you want using the Quick or Advanced Search engine.
You can type in the author, title or a keyword like 'football'. Make sure it's spelled correctly. Then press search.
Click on the title of book that you want to reserve.
Check the key to see how many of this book the library has and if they are out or reserved already.
If you still want it click reserve: once the book is back in it will be brought to you by the librarian.
Here's how you can access eBooks using Sora:
We now have access to hundreds of Ebooks that you can borrow using an online app. The software is Overdrive with the student app being called Sora. Hundreds of eBooks are online and ready for you to read now.
The online app can be found by clicking this webpage: https://soraapp.com/library/uksecondary or by searching for Sora, by Overdrive in your app store. To access the eBooks, bring up the Sora Student app on your home computer or personal device. Then:
Click the green bar that says 'My school is Secondary ebook NOW'.
In the 'Select Your School' drop down box, scroll down until you find The Mosslands School and click on it.
Once our school is in the box, click on the green bar to 'Sign in using The Mosslands School'.
Sign in using your google classroom email address and password.
Here's how to borrow an eBook on the Sora App: