Year 8
Year 8 Wider Reading list
Crossover by Kwame Alexander
12-year-old Josh and his twin Jordan have basketball in their blood. They're kings of the court, star players for their school team. Their father used to be a champion player and they each want nothing more than to follow in his footsteps...
The Colour of the Sun by David Almond
One hot summer morning, Davie steps boldly out of his front door. The world he enters is very familiar - the little Tyneside town that has always been his home - but as the day passes, it becomes ever more mysterious. A boy has been killed, and Davie thinks he might know who is responsible...
A Jigsaw of Fire and Stars by Yaba Badoe
Sante was a baby when she was washed ashore in a sea-chest laden with treasure. It seems she is the sole survivor of the tragic sinking of a ship carrying migrants and refugees. Fourteen years on she's a member of Mama Rose's unique and dazzling circus. But, from their watery grave, the unquiet dead are calling Sante to avenge them...
Divided City by Theresa Breslin
Glasgow is a divided city. Catholics and Protestants; Celtic and Rangers. Stumble down the wrong street at night, and you might not find your way home again. Joe and Graham should never have become friends and Joe and Graham have to decide where their loyalties lie...
The Outlaws Scarlett and Browne by Jonathan Stroud
England has been radically changed by a series of catastrophes – large cities have disappeared and London has been replaced by a lagoon. The surviving population exists in fortified towns where they cling to traditional ways. Only a few fight back – and two of these outlaws, Scarlett McCain and Albert Browne, display an audacity and talent that makes them legends...
Bloodline by Kevin Brooks
Finbar's fed up. He's back at his dad's house for the usual weekend visit of watching TV and eating chips. Just like every other. The last thing he expects is for a girl to burst into the house. A girl with a gun...
Booked by Kwame Alexander
Twelve-year-old Nick is a football-mad boy who absolutely hates books. This energetic novel-in-verse by the poet Kwame Alexander captures all the thrills and setbacks, the action and emotion of a World Cup match...
Billy Elliot by Melvin Burgess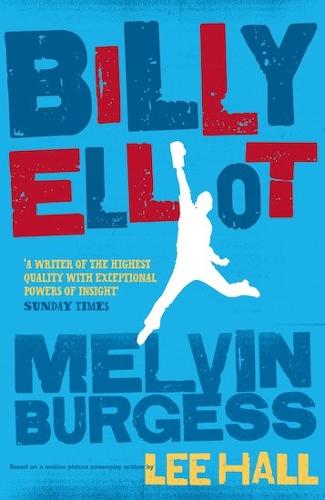 Billy's mother is dead, and his father and brother are fiercely involved in a bitter miners' fight that has split the local community. Billy's father wants his son to learn boxing, like he did and his father before him. But Billy is fascinated by the grace and magic of ballet...
Lionboy by Zizou Corder
Charlie Ashanti, speaks cat - the language of all cats wild and domestic alike. His unusual talent helps him on his quest to find his kidnapped parents who have discovered a cure for asthma. The local cats of his home town (a futuristic London) start him on his search to solve the mystery of his missing parents...
The Edge by Alan Gibbons
It's early morning and Danny's mother is at his bedside, urging him to get up. They're on the run from Chris, his mother's boyfriend, a violent man who beats them both up, and won't let them go. Chris pursues Danny and his mother from London to the north, where they take refuge with Danny's grandparents. But even there, nothing is safe...
Dream On by Bali Rai
Baljit works in his dad's chippy but dreams of football stardom. When the chance of a lifetime comes along in the form of a national team's rep, he is sure that his parents will disapprove and so a chain of lies begins. Will Baljit's fibs mean the end of his potential football stardom, or will his dreams win out?
The Girl of Ink and Stars by Kiran Millwood Hargrave
Forbidden to leave her island, Isabella dreams of the faraway lands her cartographer father once mapped. When her friend disappears, she volunteers to guide the search. The world beyond the walls is a monster-filled wasteland – and beneath the dry rivers and smoking mountains, a fire demon is stirring from its sleep...
Across the Nightingale Floor by Lian Hearn
Set in a mythical, feudal, Japanese land, a world both beautiful and cruel, the intense love story of two young people takes place against a background of warring clans, secret alliances, high honour and lightning swordplay...
The Wind Singer by William Nicholson
Hanno, Ira, Bowman, Kestrel and Pinpin Hath are an unhappy family in the world of Aramanth, ruled over by Maslo Inch and his Examiners. Life there is strictly regulated but Kestrel and her twin brother are becoming increasingly rebellious. Kestrel is drawn to the wind singer...
Freedom 1783 by Catherine Johnson
Nathaniel doesn't want to move to England with his master's family, leaving behind his mother and sister on the Jamaican plantation. But then he remembers what his mother told him: once a slave sets foot on English soil, they're free. Perhaps he can earn his fortune and buy his family's freedom, too...
Rebound by Kwame Alexander
It's 1988. Charlie Bell is still mourning his father, and struggling to figure out how he feels for his best (girl) friend, CJ. When he gets into trouble one too many times, he's packed off to stay with his grandparents for the summer...
Penalty by Mal Peet
In the second of the Paul Faustino novels by Carnegie Medal-winning author Mal Peet, teenage football prodigy El Brujito, "the Little Magician", has vanished without a trace and Paul finds himself reluctantly drawn into the mystery...
Swallows and Amazons by Arthur Ransome
The Walker children - also known as Captain John, Mate Susan, Able-Seaman Titty, and Ship's Boy Roger - set sail on the Swallow and head for Wild Cat Island. There they camp under open skies, swim in clear water and go fishing for their dinner. But their days are disturbed by the Blackett sisters, the fierce Amazon pirates...
Witch Child by Celia Rees
When Mary sees her grandmother accused of witchcraft and hanged for the crime, she is silently hurried to safety by an unknown woman. The woman gives her tools to keep the record of her days - paper and ink...
Holes by Louis Sacher
Stanley Yelnats' family has a history of bad luck, so when a miscarriage of justice sends him to Camp Green Lake Juvenile Detention Centre (which isn't green and doesn't have a lake) he is not surprised. Every day he and the other inmates are told to dig a hole, five foot wide by five foot deep, reporting anything they find. Why?
Tins by Alex Shearer
Fergal is a self-confessed nerd with an eccentric hobby: tin collecting. He likes the lucky dip aspect of buying tins that have their labels missing - after all, you never know what might be inside. It's Fergal's idea of living dangerously. That is, until the day he innocently opens up a tin to find a bloodied human finger...
The Lord of the Rings by JRR Tolkien
Sauron, the Dark Lord, has gathered to him all the Rings of Power – the means by which he intends to rule Middle-earth. All he lacks in his plans for dominion is the One Ring – the ring that rules them all – which has fallen into the hands of the hobbit, Bilbo Baggins. In a sleepy village in the Shire, young Frodo Baggins finds himself faced with an immense task, as the Ring is entrusted to his care...