Year 9 
Curriculum Map
Half term

Unit of work

Home study

Autumn 1

Practical = Football, Rugby: maximising assessment scores

Theory = Health, exercise and fitness, Fitness testing, principles of training

9 mark essay question on principles of fitness and fitness training/ testing
Complete a training diary for an athlete of your choice that satisfies all the principles of training.
Design a skills and fitness based circuit session for an athlete of your choice and teach to class in lessons.
Complete all the fitness tests done in lessons on 3 different aged people and compare results. Argue why they may not be the best methods of testing.
Practice drills in lessons for dribbling, passing, possession and shooting.

Autumn 2

Practical = Badminton

Theory = Health fitness and well being, Diet

Flipped learning task – Research the diet of a rugby player and jockey and how they differ
Write a dieticians menu for a week for 3 different athletes. Explain why they are different and what foods they could eat.
Find a Youtube video that shows the diet of 3 different athletes and explain using a Powerpoint to the class.
Practice badminton serve, clear, drop and smash shots and play doubles games.

Spring 1

Practical = Handball

Theory = Classification of skills, goal setting

9 mark essay question on diet
Practice handball dribbling, passing and shooting against a goalkeeper and defender. Play in small sided games.
Complete a continuums A3 collage with pictures of athletes on for open/closed, basic/complex, low and high organisation.
Set a SMART target for your fitness to improve over 6 months and explain it. Argue the advantages and disadvantages of goal setting

Spring 2

Practical = Table tennis, Basketball

Theory = Types of guidance, mental preparation

Flipped learning task – research how goal setting can work for a chosen athlete
Practice table tennis serve, smash, forehand and backhand.
Practice laying up to basket with and without defender. Play in small sided games.
Create an inspirational video using Youtube clips that show athletes mentally rehearsing for an event. Come up with a simple mental rehearsal sequence and demo to peers for football penalties, rugby conversions or basketball free throws. Experiment to see if the worked better than no rehearsal.

Summer 1

Practical = PEP and Striking and fielding

Theory = Skeletal and muscular system

9 mark essay question on goal setting
Practice catching and fielding from various positions. Practice bowling and batting for different parts of a game (defensive and attacking)
Work on PEP using pro forma supplied in lessons.
Complete and design PEP sessions at home that use continuous, weight, fartlek, circuit and interval training methods). Be prepared to deliver to peers in lessons.

Summer 2

Practical = Athletics

Theory = Cardio Vascular system

Write a PowerPoint presentation with photos and Youtube links about the role of heart and lungs in transporting substances in the blood (include all types of blood vessels)
Practice running 100m, 400m and 1500m and try and improve times.
Work on PEP using pro forma supplied in lessons.
Complete and design PEP sessions at home that use continuous, weight, fartlek, circuit and interval training methods). Be prepared to deliver to peers in lessons
By Year 9 students will opt in for GCSE PE if they feel they will have chance to achieve a good score in a GCSE by the end of year 11.
You will start to specialise in your main 4 or 5 sports that you could be examined on at GCSE level.
You will also be introduced to a large number of new activities that will be assessed at GCSE level. New activities such as volleyball, handball, table tennis, badminton, rock climbing and tennis will be introduced and some of the earlier sports may take a back seat.
GCSE PE Recommended reading
Should students and parents wish to study from home they can buy the text book we are using in lessons.
It is: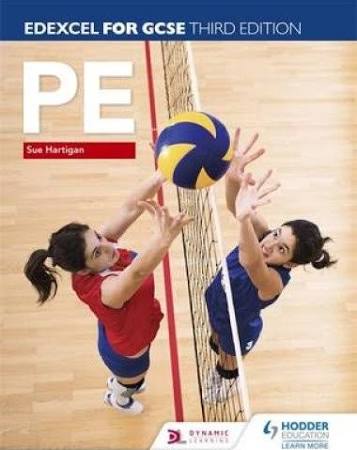 Edexcel (9-1) PE for GCSE
by Sue Hartigan
Hodder Education Group
Paperback
256 pages
ISBN 1471866963
It can be found on Amazon at around £19.99